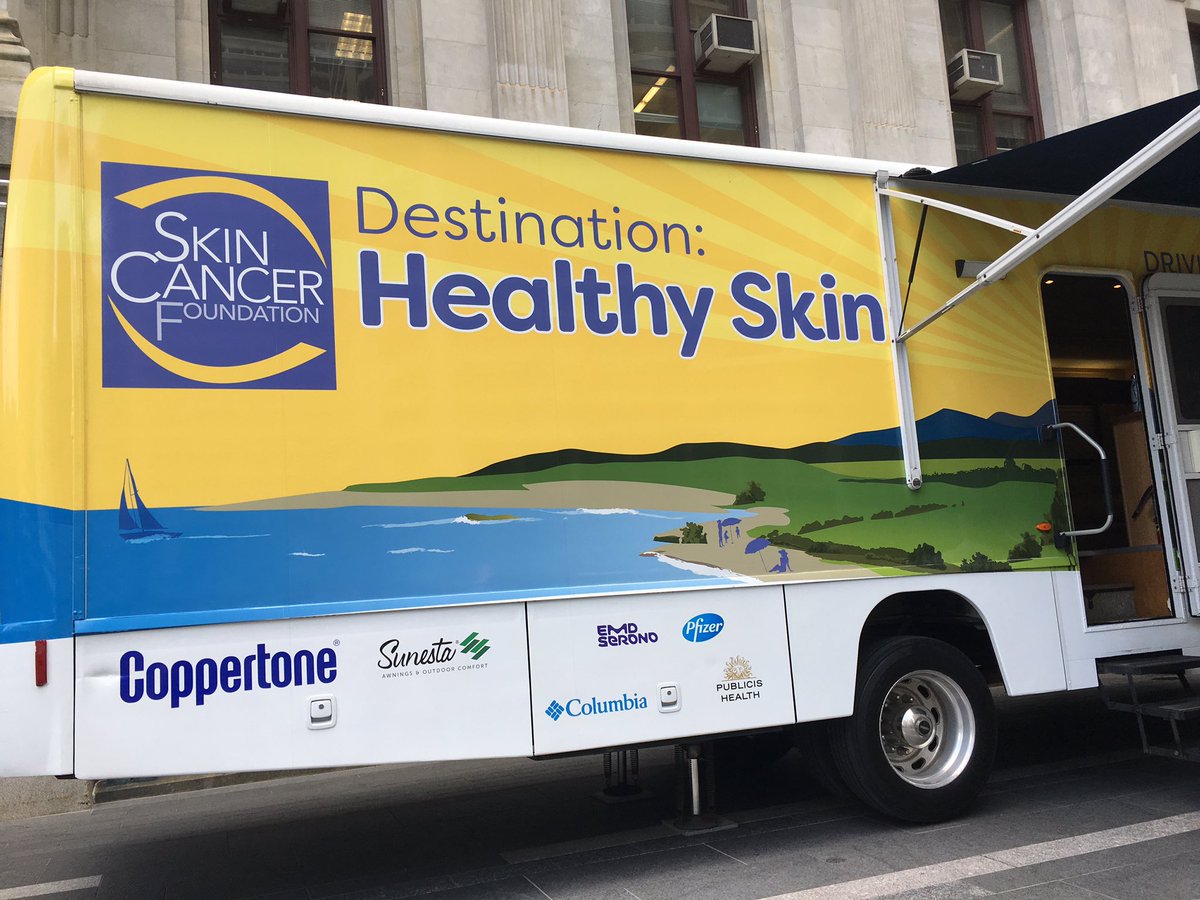 A Mobile exam room will visit 16 states this summer.
Men are more likely than women to get skin cancer, but everyone should get checked.
Skin cancer is the most common cancer in the United States, in an effort to educate people about skin cancer, the Skin Cancer Foundation is going on the road. Destination: Healthy Skin is traveling across the United States with 50 stops in 22 cities this summer. The group is educating people about skin cancer, ways to protect your body with sunscreen, and will offer free skin cancer screenings.
Monthly self-exams are recommended but it's also very important for a doctor to examine your skin annually. According to the most recent data available from the Centers of Disease Control and Prevention (CDC), in 2013, 71,942 people in the United States were diagnosed with melanomas of the skin. This is the deadliest form of skin cancer. When looking at the statistics, men are more likely to get melanoma than women. In 2013, 42,30 men were diagnosed and 29,513 women were diagnosed. It's estimated that the cases of melanoma will increase by 14 percent between 2016 and 2015.
Detecting skin cancer early is key. Skin cancer found and removed early are almost always curable, according the the Skin Cancer Foundation. In 2013, despite this somewhat promising fact, 9,394 people died of melanoma but the fatality rate for men was nearly doubt that of a women (CDC).
Health experts and the CDC explained why skin cancer might be more common in men:
Men tend to wear their hair shorter than women, and it also thins earlier, exposing their scalp.

Men spend more time outside over their lifetimes than women.

Women's personal care products, such as moisturizer and makeup, often contain sunscreen, while many products for men don't.
The Skin Cancer Foundation selected its cities to stop by based on various lifestyles and include beach communities, mountain towns and urban, suburban and rural areas. The free screenings, which will be conducted in private exam rooms in a specially equipped RV, will take approximately 10 minutes. Doctors will screen your full body, including areas people commonly miss on self-screenings, such as behind your ears or the back of your neck, which can be hard to check in a mirror.
The RV tour kicked off June 5 in Cambridge, Mass., and continued to New York later that week.  Additional dates and locations include:
Morristown, N.J. – June 11

Philadelphia – June 13

Washington – June 15-16

Marietta, Ga. – June 20-21

Jacksonville, Fla. – June 24-25

Tomball, Texas – June 28-29

Magnolia, Texas – July 1

Waller, Texas – July 2

Phoenix, Ariz. – July 7-8

San Diego – July 11-12

Los Angeles – July 14-16

Sonoma/Napa, Calif. – July 19-21

Portland, Ore. – July 25-27

Seattle – July 29-30

Boulder, Colo. – Aug. 5

Denver – Aug. 6

Bentonville, Ark. – Aug. 11-12

Kansas City, Mo. – Aug. 17-18, Aug. 20

Evanston, Ill. – Aug. 22-23

Indianapolis – Aug. 26-27
Visit Destination: Healthy Skin for more information on screening locations.
Dermatologists recommend that you get a skin screening annually, but if you are at greater risk for skin cancer you should be checked every six months. And if you notice a change in a mole, see a dermatologist immediately.
By Kristina Mancino